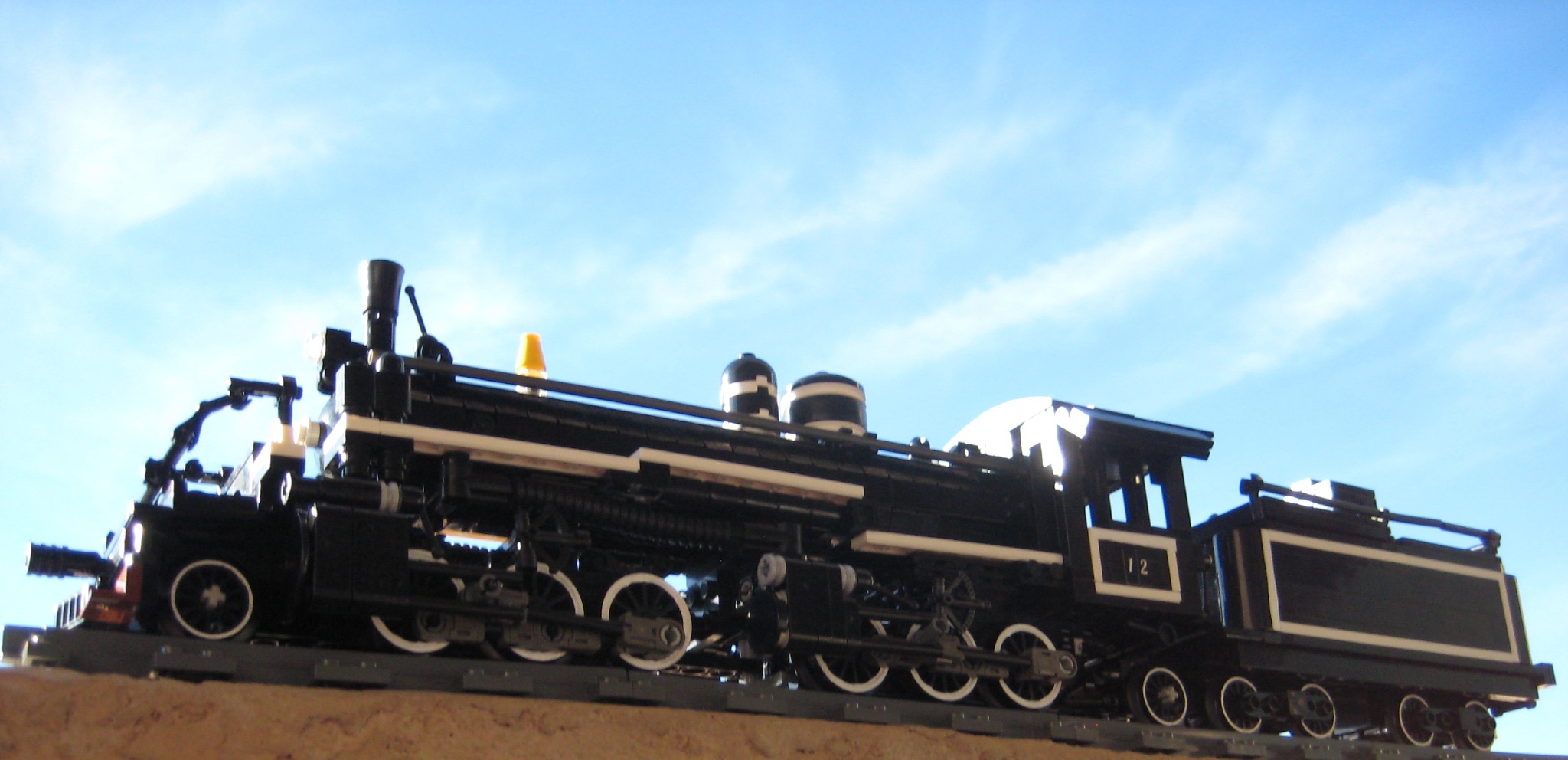 Engine #12′s real life counterpart resides at the Pioneer Museum in Flagstaff, Arizona. It was built by Baldwin Locomotive Works as Engine #6 in 1929 for the Hammond Lumber Co. as a tank engine, before being converted to a tender engine around 20 years later while owned by the Southwest Lumber Mills. It was donated to Coconino Park (Also in Flagstaff) until the mid-nineties when it was moved to the Pioneer Museum.
And what a beautiful engine it is. With a 2-6-6-2 "Mallet" wheelbase, it immediately caught my attention.
Working with such a long wheelbase on the engine was tricky, as I wanted it to be able to navigate the tight curves of L-Gauge track.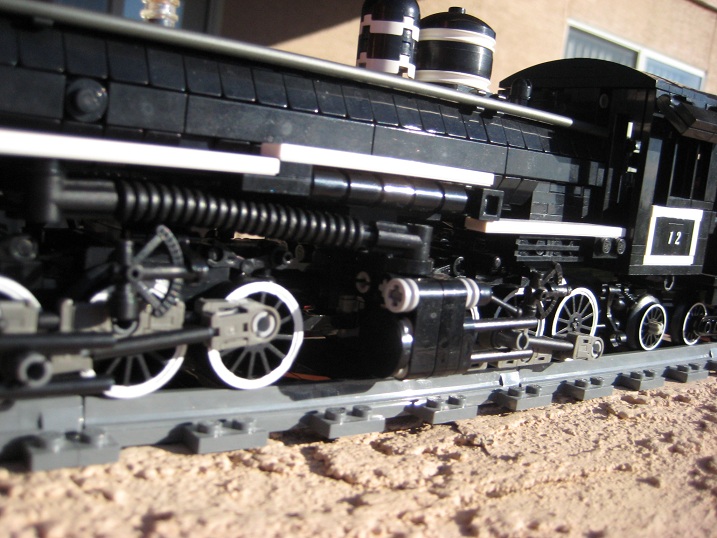 Here's a close up of the wheels and running gear on the left side of the engine. The Walschaerts Valve gear on this engine is static, sadly, as there was very little room to try and fit in all the need components, and certain aspects of that particular style of valve gear can get bulky in LEGO.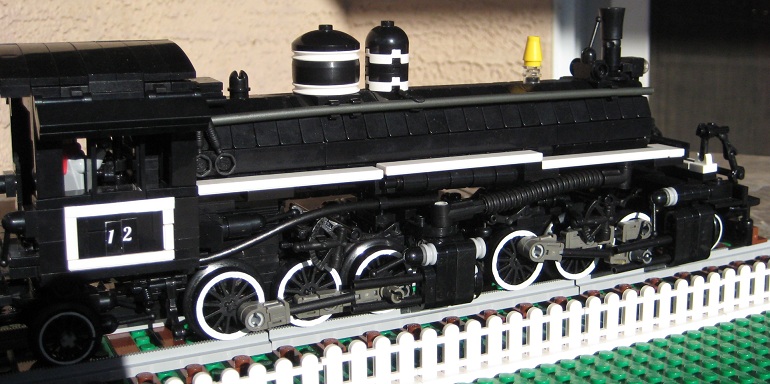 This picture brings up a good chance to talk about the steam pipes feeding the rear pistons. If you look at the reference picture above, these are actually a little too big in diameter; however due to the limited sizes of LEGO hose  I chose this style so that they wouldn't get lost among the other hoses and handrails.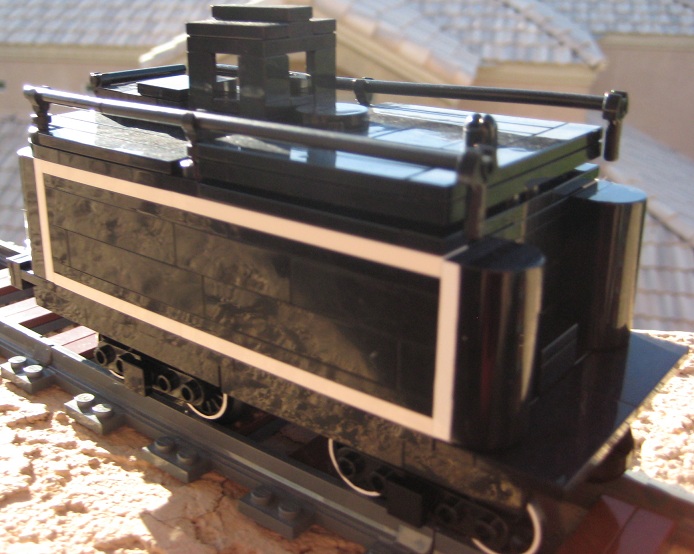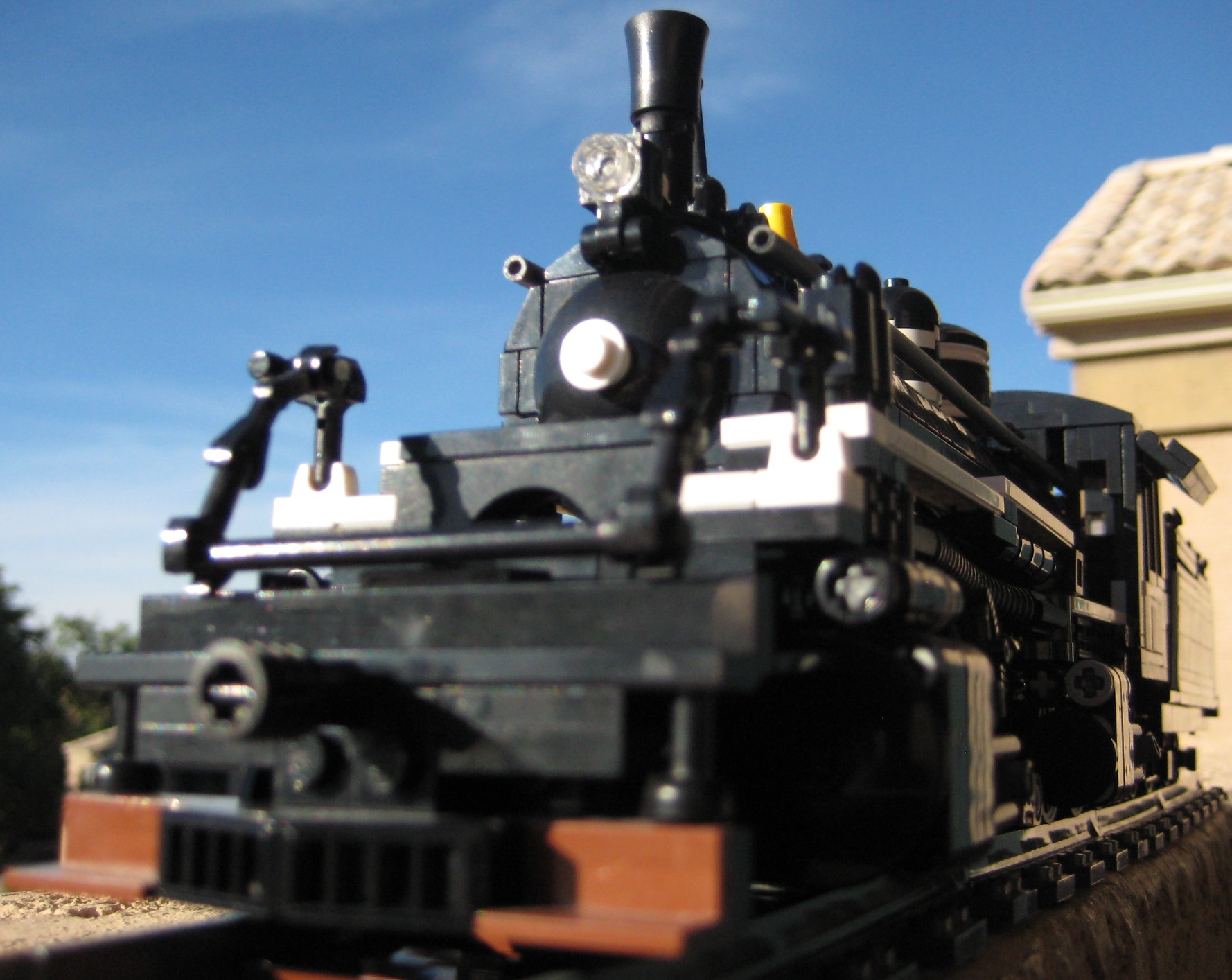 This engine model is around 1200 bricks, and uses BigBenBricks custom Medium Drivers. In these pictures, the connecting rods are made using the old LEGO flex cable system, these however have recently been swapped out for some custom drive rods by Benn Coifman. Design started in February 2012, and most of the design work was done in 3 months, with a lot more work on the running gear and assorted details being worked out over the next 6 months. Being an articulated Mallet engine provided a lot of challenges, and getting it to run smoothly was particularly challenging. In the end, though, this is probably still my favorite engine in my collection, and can navigate any of LEGO's tight turns and switches easily. The small size of the engine made me quickly decide that I was not going to be able to power it without some serious sacrifice in detail, and therefor I turned to powering the tender. The tender is designed to be relatively easy to convert to using LEGO's Power Functions or 9v system, although that requires the bogies of the tender and the trailing truck of the engine itself to be swapped out.
This engine has been run at the Phoenix Comicon 2013 as a part of the CactusBrick display, and it ran without problems the entire show being pushed by a powered baggage car. It handles curves very well at all speeds, and the  two sets of drivers make it very fun to watch.